Welcome to the Trial of Jimmy the Monkey
5 minutes
Jimmy the Monkey: The first chapter of a new BAYC story
We launched BAYC with a roadmap that gave a glimpse into the world we were creating. We know you have been patiently waiting and speculating about what's next, so here we go.
Today, the trial of Jimmy the Monkey starts with a short film kicking off a new chapter in the lore of the Bored Ape Yacht Club.
This is the first chapter in a new saga that will provide a first of its kind experience for all BAYC and MAYC holders. Pieces of the narrative will be released along the way, pay attention to the signs - details might be important down the line. It all will come to a head in late January with a free, playable, interactive mint experience for BAYC and MAYC holders. 
Keep these mints close, don't let them fall into the wrong hands. The trial is a prologue to a series of activations coming over the course of the next year. 
We don't want to spoil everything, but here's a tip: When it comes to the mint, Apes (BAYC or MAYC) who also hold BAKC will be in tiers of their own.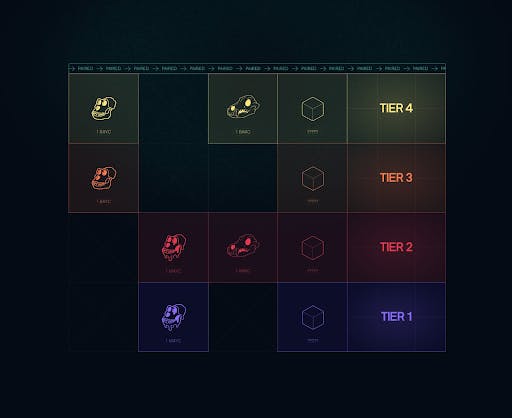 There will also be an optional $APE spend mechanic, for those looking to enhance their minting experience.
All of these questions will be answered in due time. Check back here as the story continues, and in the meantime visit our new website for this experience at MDvMM.xyz.
1/10 Update: Warm wallet functionality through Warm.xyz and Delegate.Cash have been added to the upcoming Jimmy The Monkey activations. Head over to the platform of your preference to set up your warm wallet ahead of the next activation.