Punks in the Permanent Collection: Punk #305 and the Punks Legacy Project
5 minutes
CryptoPunks are contemporary art. They belong in museums.
Today we're excited to announce Yuga Labs' donation of Punk #305 to the Institute of Contemporary Art Miami and to introduce Yuga's new Punks Legacy Project. 
Yuga believes that CryptoPunks deserve to be on the walls of contemporary art and design institutions worldwide. To understand how we got here, let me take you back to May 2021.
As part of Christie's prestigious 21st Century Evening Sale in New York, I worked on a consignment of nine CryptoPunks created by Larva Labs. The auction featured works by a spectrum of famous post-war and contemporary artists including Louise Bourgeois, Kerry James Marshall and Gerhard Richter next to younger market darlings like Amoako Boafo and Salman Toor. 
When the auctioneer arrived at the lot and the bidding started, it quickly blew past the $7-9M pre-sale estimate. My colleagues – seasoned Art World vets with countless years of combined experience in the ancient ritual of high-stakes auctions – shared thoroughly confused glances with one another and whispered muffled jokes to their bewildered clients over the phones. This was a highly unusual occurrence: practically no one participating in that auction, neither bidders nor salespeople, seemed to know anything about the mysterious artworks that had just sold for nearly $17M.  When the auction concluded, the only lot in the sale to top the price realized by Matt and John's Punks was a killer, bright red Jean-Michel Basquiat painting of a skull from a "Distinguished Collection," per the provenance.
Punks took a weird, highly truncated route to Christie's most important auction – leapfrogging right over legacy collectors and institutions alike. 2021 was a weird year. A few months prior, an artist by the name of Beeple sold an NFT piece called EVERYDAYS for $69M. Thus began my real education in the new CryptoArt space, a niche within the niche of Web3, where artists use blockchains for canvas and code for paint. That's when I became formally introduced to Punks. 
After joining the Punks Discord, I forged some of my strongest friendships in Web3 while learning about the origins and history of the CryptoPunks project. The art world wanted to know who would be the next Beeple, and the lightbulb went on. 
The CryptoPunks project was the first of its kind: equal parts art, graphic design, technology and radical communal experiment. Punks were very clearly much more than just digital collectibles or illustrated entries on an immutable public ledger: they combined aspects of generative coding, pixel art, cryptocurrency and social media.These were now people's online identities – and life online in the wake of the pandemic had become exponentially more vital.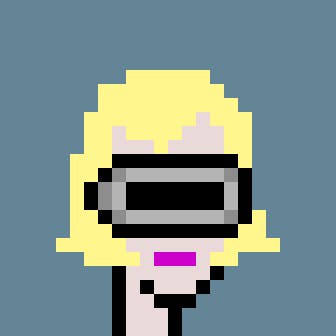 Introducing the Punks Legacy Project
We're honored to announce the Punks Legacy Project, an initiative by Yuga Labs to donate iconic CryptoPunks from our collection to museums around the world. Our team will oversee the donation and installation of several CryptoPunks to leading contemporary art museums around the globe, providing these museums with resources regarding security, NFT display best practices, and Web3 education. 
To celebrate the launch of this initiative, we're kicking things off with the donation of Punk #305 to the permanent collection of the Institute of Contemporary Art, Miami. The acquisition of a CryptoPunk by a major art museum affirms the collection's pioneering role in the rise of cryptoart, and we're thrilled to be working with ICA Miami given Yuga Labs' deep Miami roots. Seeing a Punk on the wall of a museum next to famous artists only affirms what I felt that evening when Beeple's art made history – NFTs are changing contemporary art. 
ICA Miami will unveil Punk #305 on Friday, December 2. The piece will be on permanent display in the museum and we're excited to see how the community reacts. 

If you're a museum interested in experimenting with NFT art, reach out to [email protected]! More to come.