INVESTING IN THE FUTURE OF OUR HOMETOWN, MIAMI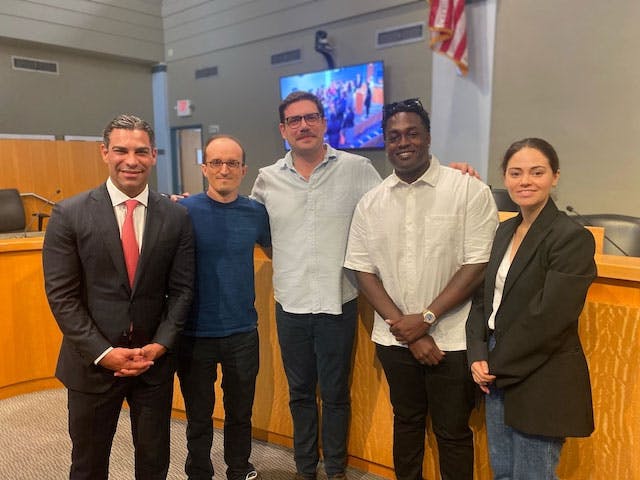 We love Miami. From 24-hour Cuban cafes on 8th street, to fishing under the Rickenbacker Causeway, sandwich spots hidden in coin laundries, and the city's incredible music and nightlife scene.
Miami is a majority-minority city that has welcomed immigrants and cultural diversity, and it enjoys one of the most vibrant artistic communities. It's a restless city always reinventing itself. It's the perfect place for incubating wild dreams.
It's also our hometown. We spent our youth learning to skateboard in marina parking lots in Coconut Grove, reading books at the University of Miami coffee shops, and making long treks on the metro rail to punk shows. Greg got an incredible education at a public magnet program across the city, and Wylie got kicked out of some of Miami's most prestigious private schools.
We were on different paths when we met by chance a decade ago at a bar in South Miami, but we quickly recognized a shared connection beyond our love of creative writing that reflected this city. When we started to talk about what would eventually become the Bored Ape Yacht Club, we knew it had to be grounded in the kind of community we knew and loved – one that embraced and supported people from all walks of life and didn't care if everyone else thought it was a little strange. When we brought our friend and fellow Miami native Nicole on as CEO of Yuga Labs, we knew she shared our vision as well.
Because Miami looms so large in the origin story of Yuga Labs, it means a lot to us that we're able to give back to our city. Today, we announced that Yuga will donate $1 million to support arts and education initiatives across the city.
After months of orchestrating behind the scenes, we're happy to kick off this new program where we are donating $300,000 to the Venture Miami Scholarship Fund, which provides free tuition to Miami students in need who are pursuing a bachelor's degree in a STEM field at a Miami institution.
It's still mind-blowing to us that we're able to do this, but we know firsthand the kind of talent that Miami is capable of producing, and we want to make sure that the next generation of innovators and storytellers get their shot at fulfilling their potential.
As a web3 company, it's been amazing to watch how the city of Miami has committed to becoming a global hub for the crypto/blockchain community – it's one of the main reasons we're so excited to keep building out our business and club here.
So, stay tuned for more from Yuga about our plans for the city we love. This is just the beginning.