20 Minutes
We began with a detailed business plan.
Yuga Labs was founded by four friends: Gargamel, Gordon, Tomato, and Sass. 
It went like this: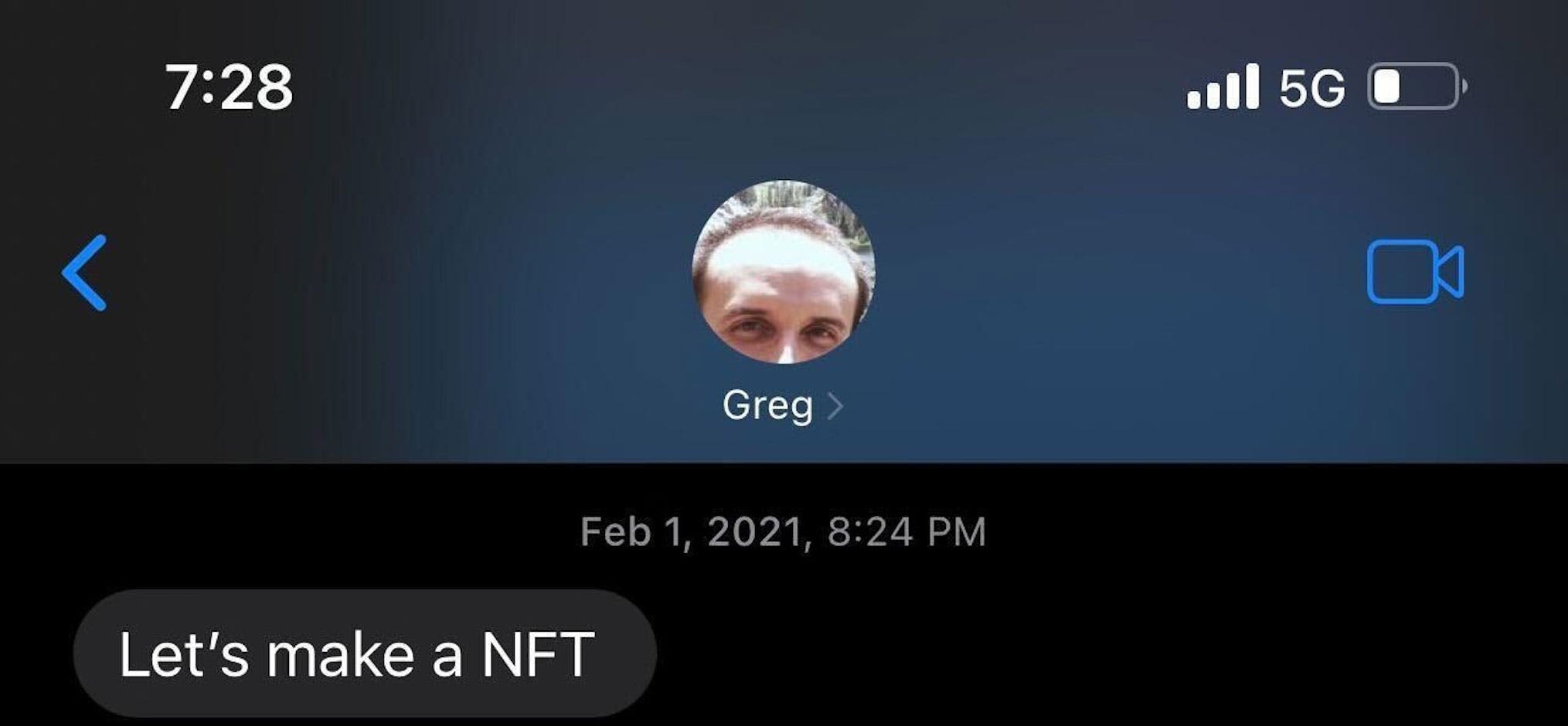 Wait, let's start at the start.
Gordon and Garga first got interested in crypto in 2017. It was exciting. And there was shitposting on Twitter.
You could read everything there was on Crypto Twitter and only scratch the surface of what was going on. Plus, there was a real allure to the insane characters you'd encounter scrolling through Crypto Twitter looking for alpha (looking for the next shitcoin). So many millionaires (and plenty of pretend ones) with anime profile pictures shitposting insular memes for each other.
They contributed in the only way they knew how: read a lot, spent some money, made some money, and then lost it all.
They kept engaged with the scene, but things got pretty quiet there for a few years. 
In early 2021, a project called The Hashmasks was released. We'd heard of other NFT projects before, like Crypto Kitties and Cryptopunks. But Hashmasks felt like the first time the technical aspects of an NFT project weren't really the point. It was an art project that used blockchain and NFT technology as a medium. Without doing anything crazy technically speaking, it pushed the whole space forward.
They sent another 🧐 text message.
They enlisted two friends, Sass and Tomato, both software engineers, to help build something before they really had any idea what they were building.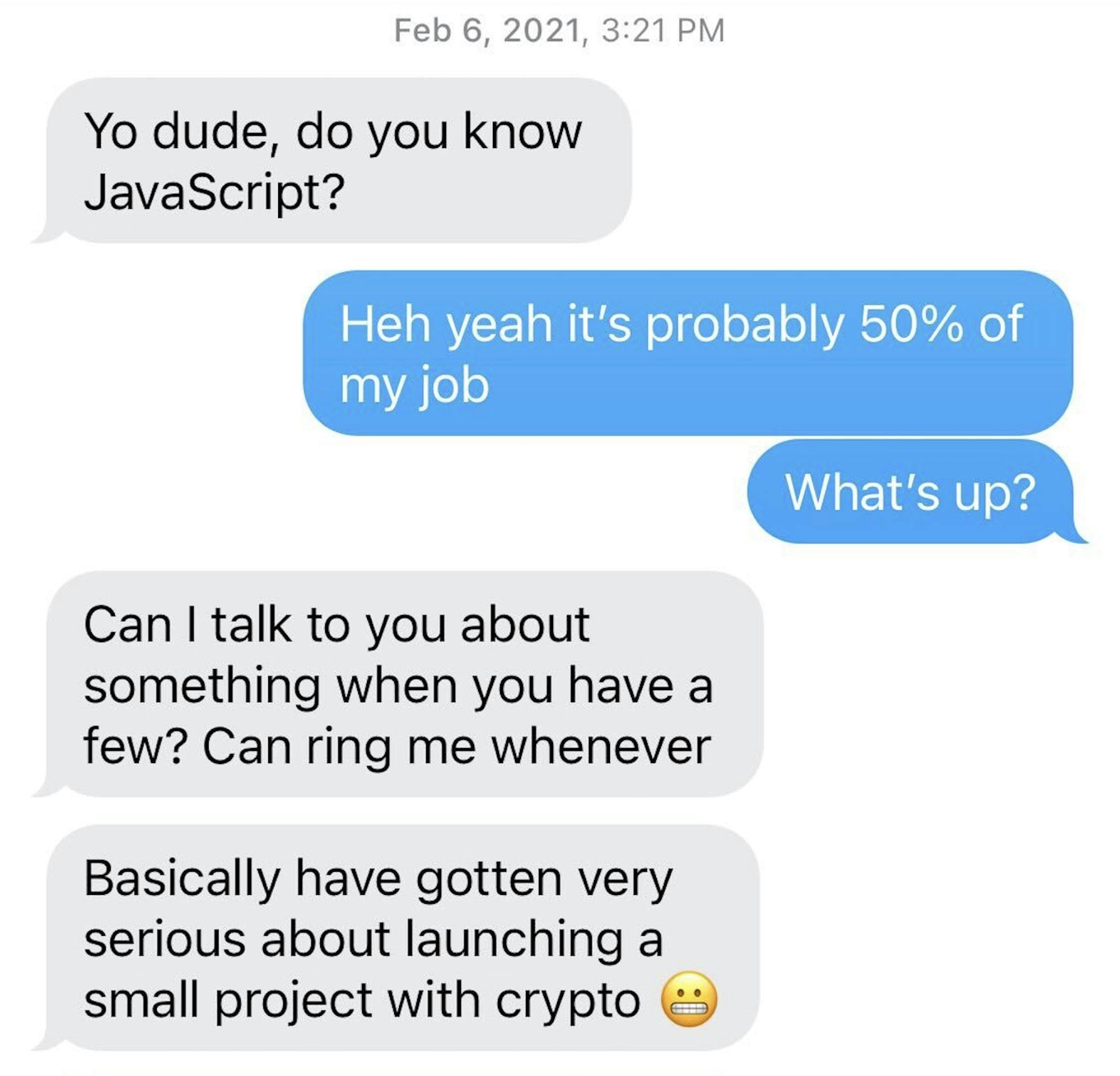 It felt like a new wave of culture was coming to crypto (and, more specifically, to Ethereum).
As the four of us learned more about NFTs, we became more excited about the possibilities opened up by the technology. Not only was this an opportunity to create art and tell stories on a new medium, but if you could prove irrefutably that a certain digital artwork was authentic, then you could use that artwork as a key to access locked content, experiences, apparel...anything. Your NFT could double as your membership card to an exclusive club.
Apes, naturally.
There's a long history of crypto traders affectionately referring to themselves as 'apes'. It's one of the reasons why some of the most valuable NFTs in the Cryptopunks collection are apes. We imagined a future where crypto changed the world, where everybody in crypto 'made it' (Supercycle etc.). Everyone who 'aped' or went hard into crypto became rich beyond their wildest imagination. But then what? What's a Bored Ape to do? 
Our answer: Hang out in a secret club in the swamp, for apes only. And write graffiti on a collaborative pixel board on the club's Bathroom wall.
It became real!
After working with a team of freelance commercial illustrators to bring the idea to life, the Bored Ape Yacht Club was ready. BAYC launched with a week-long pre-sale on April 23rd, 2021, with the cost to mint a Bored Ape NFT .08 ETH, or around $220 in USD at the time. After a very slow week (only about 500 apes were minted during the pre-sale), all remaining Bored Apes were minted in one insane night. The collection sold out on May 1st, 2021. At one point, BAYC was the most-used smart contract on the Ethereum network, flipping UniSwap.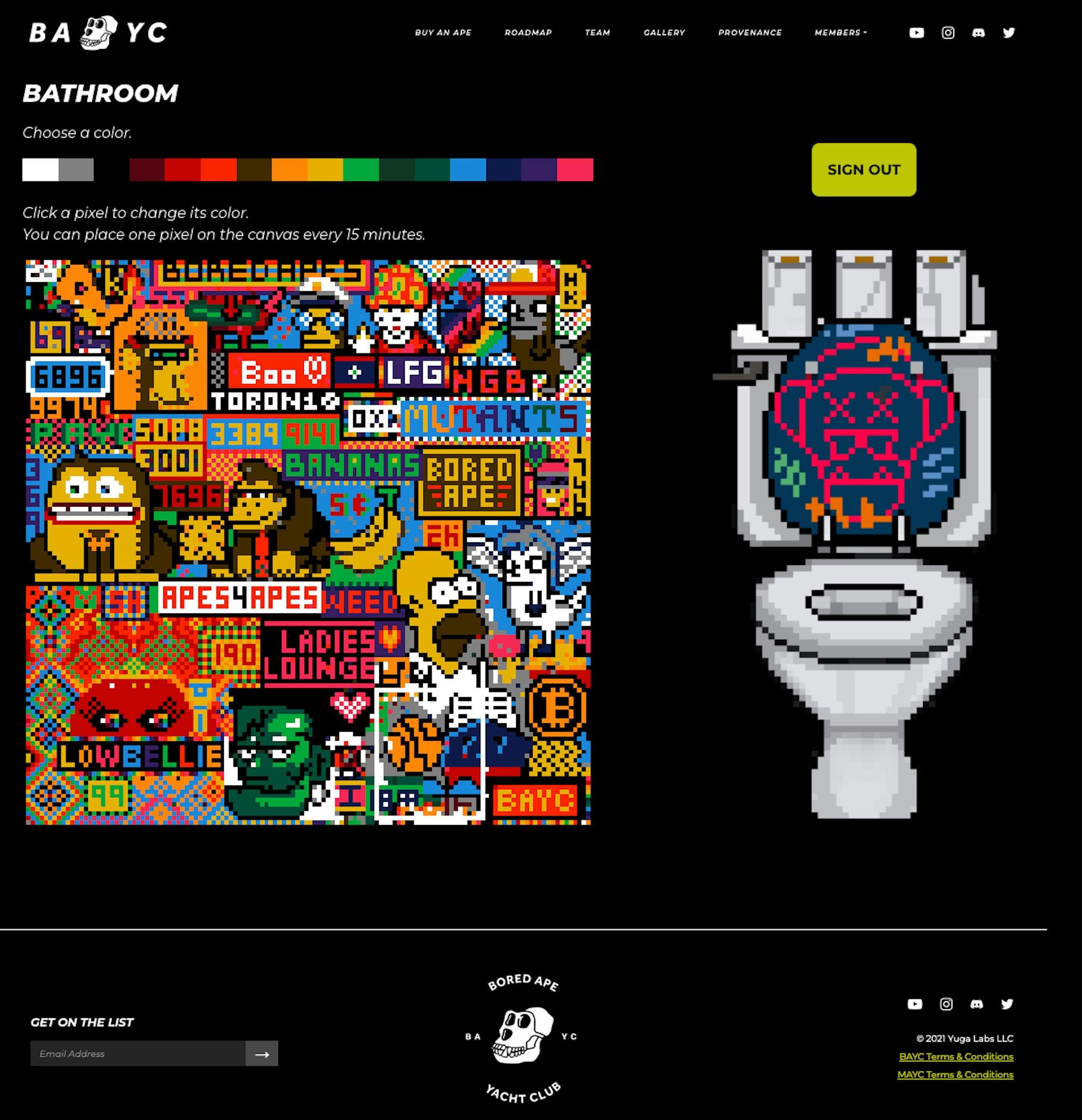 The OG team. 
Illustrating these bedraggled, punk, world-weary Bored Apes was the result of a combined effort from a team of talented freelance illustrators. 
@allseeingseneca worked for four days under our creative direction on the base character design, after which @migwashere, @thomasdagley, and two other artists who prefer to remain anonymous worked for over a month to create all kinds of expressions, clothing, and accessories, as well as the design of the club itself. 
The Mutant Apes were illustrated by @thomasdagley and @lovans, with serum artwork by @1800seandotcom.
What happened when?
April 23, 2021 
The Bored Ape Yacht Club launched with a week-long pre-sale.The cost to mint a Bored Ape NFT was .08 ETH, or around $220 in USD at the time. About 500 apes were minted during the pre-sale.
May 1, 2021
After a very slow week, the remaining Bored Apes (9,500 or so) were minted in one insane night. The collection sold out in the early morning of May 1st 2021. That night, BAYC was the most-used smart contract on the Ethereum network, flipping UniSwap. 
Our Discord went from a totally dead place to the most hype place in crypto.
May 9, 2021
BAYC LoFi Radio went live as a video first then as proper livestream on May 21st. To be totally honest, we were focused on other things in the roadmap and so the YT channel has shit the bed a couple times so that's why there are little views/comments lol.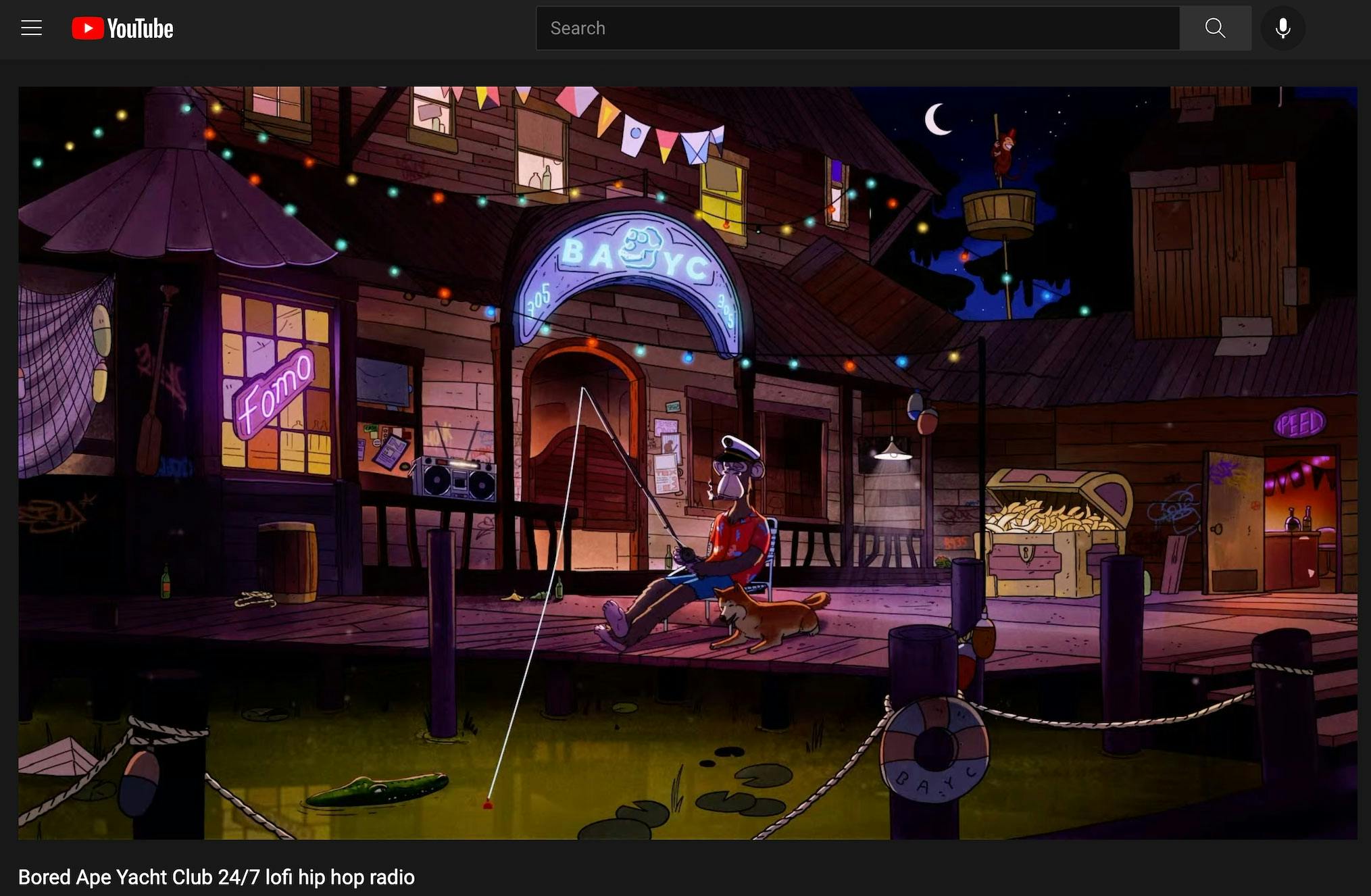 May 29, 2021
Our first merch drop sold out in 6 minutes. We packaged all the boxes ourselves…and vowed to get a fulfillment partner in the future.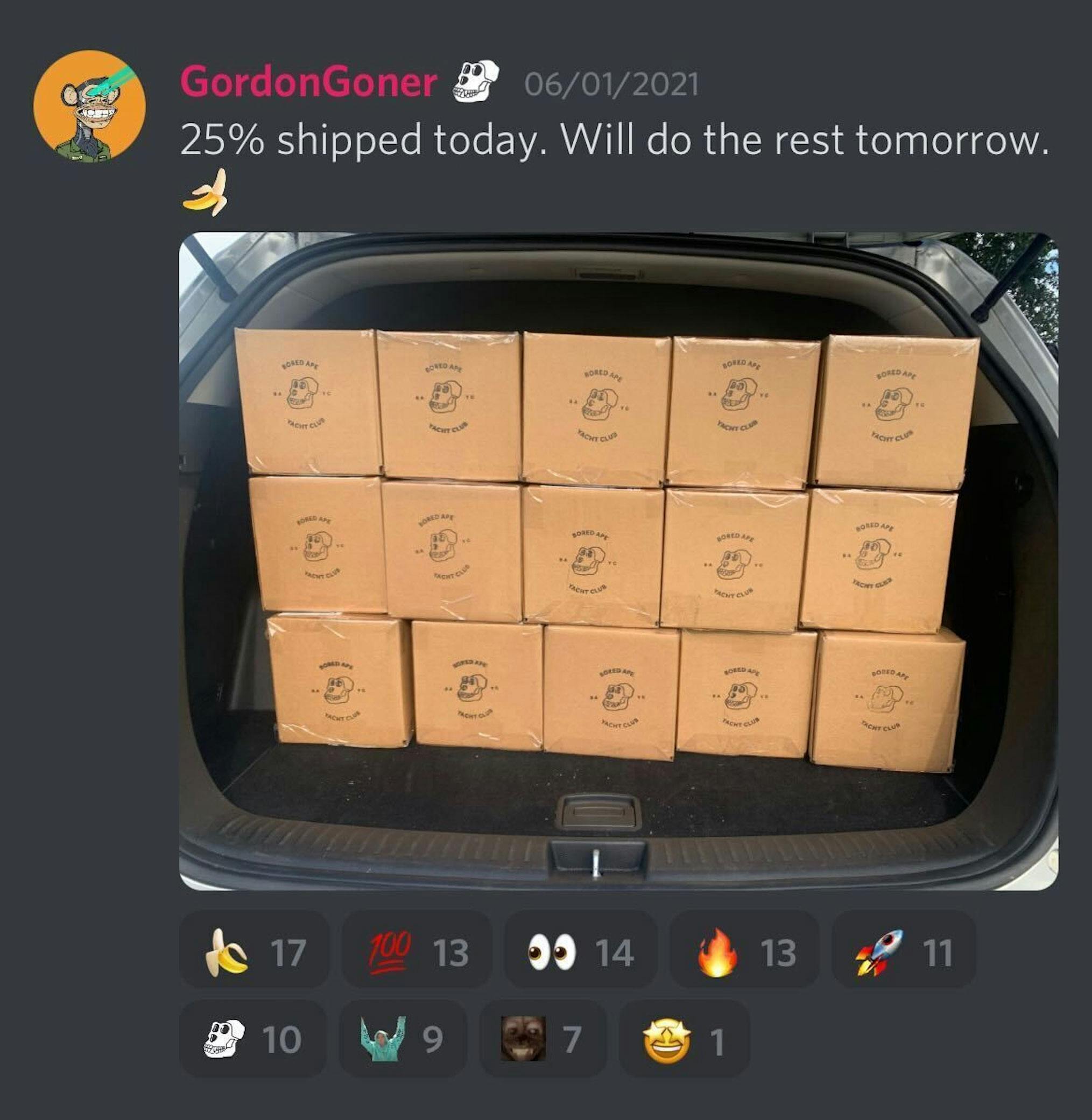 June 18, 2021
Bored Ape Kennel Club (BAKC) joined the BAYC family. Each owner of a Bored Ape was able to claim a companion dog NFT from the Bored Ape Kennel Club smart contract. The adoption drive was available for one week, and then closed forever. All proceeds generated from royalty fees in the first 6 weeks went to several animal charities, after which the secondary sale commission was set to zero.
August 8th 2021
We celebrated the grand opening of the BAYC Riverboat Casino in Decentraland with play-money poker (powered by Decentral Games).
August 21, 2021
We collaborated with The Hundreds on a merch drop of t-shirts, hoodies, and rugs.
August 28, 2021
Mutant Ape Yacht Club (MAYC) launched. Each owner of a Bored Ape received a serum that could be used to mutate their Bored Ape into a Mutant Ape with corresponding traits. An additional 10,000 Mutant Ape NFTs were also made available in a public mint.
September 9th, 2021
Sotheby's "Ape in !" auction of 101 Bored Apes and 101 BAKC Dogs went live. The hammer price of the Bored Ape lot was $24,393,000, with the BAKC lot going for $1,835,000.
September 13, 2021
We launched an interactive treasure hunt just for BAYC members, who explored the inside and outside the clubhouse and solved puzzles left by a trouble-making monkey named Jimmy. We awarded 10 ETH, a Bored Ape, a BAKC dog, and a special pair of kicks made by RTFKT to the winner.
September 17th, 2021 
Apes, Mutants, and the broader NFT community at large suited up in celebration of Christie's "No Time Like the Present" auction in Hong Kong, which featured four Bored Apes in suits. Bored Ape #1401 sold for 5,000,000 HKD ($640k USD).
October 31-November 6, 2021
We held the first APE FEST, a week of free members-only events. Members had access to an exclusive Halloween yacht party, art gallery and limited-edition merch pop up, among other perks. They kept the party going Wednesday evening with a celebratory concert at Brooklyn Steel featuring top musical acts and some cameos from well known comedians. Saturday, Ape and Mutant owners enjoyed one last hurrah with a charity dinner hosted at Carbone, one of NYC's most celebrated restaurants. The auction raised close to $200,000.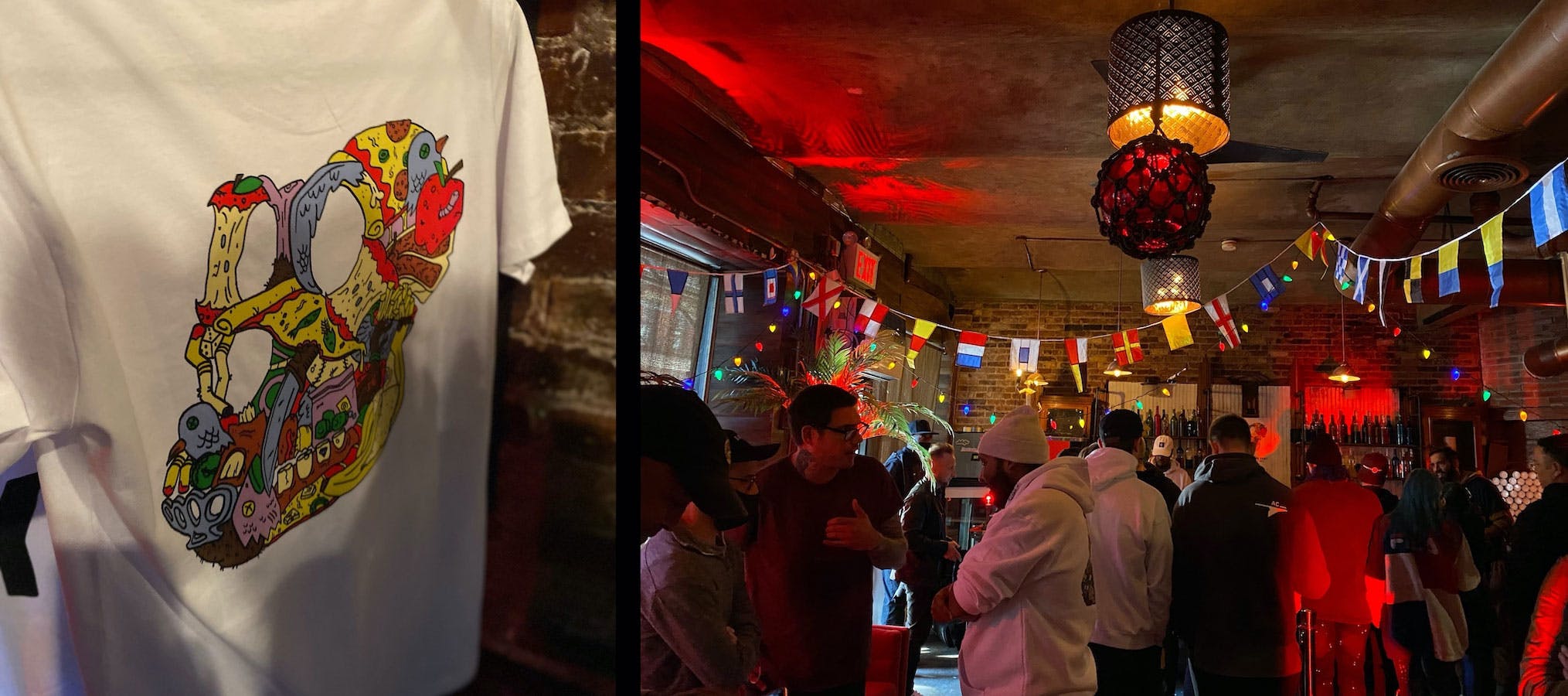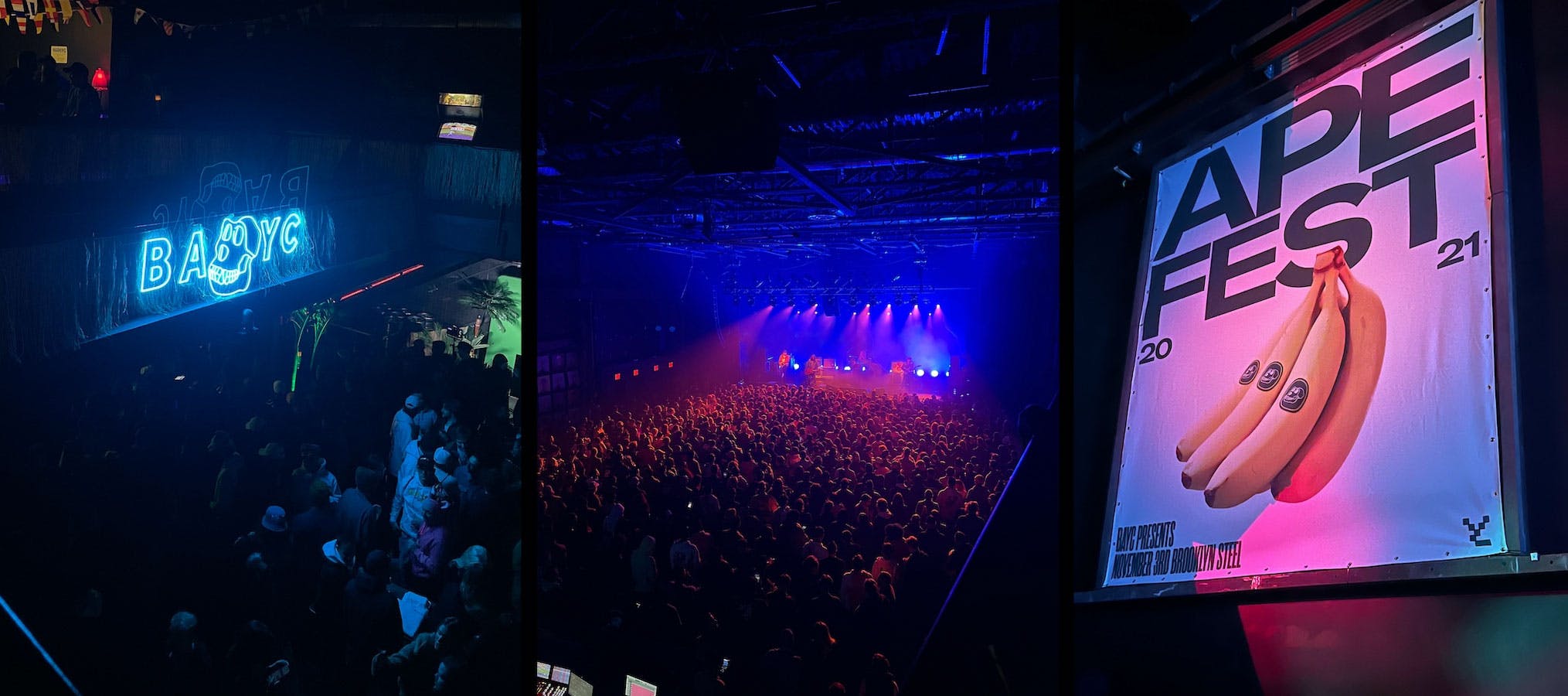 December 17, 2021
We joined gmoney and PUNKS Comic in bringing Adidas into the NFT world.
January 21, 2022
We went to battle.Bored Ape and Mutant Ape holders competed in the week-long BAYC x MAYC Mobile Game Competition. The top 1,000 scorers for each NFT collection were eligible for physical prizes, including a toy plushie, an artisan-made bong, a sewer-grate sculpture, a pinball machine, and a converted 2002 Honda Accord.
Today 
Yuga Labs has grown beyond the four founders to 40+ people. Our new CEO Nicole Muniz aka @VStrangeYUGA and CCO @pezYUGA (who were actually with us since almost the beginning) have joined our new COO @SodaOps and together are leading the team to expand the greater Yuga universe.
And we're just getting started.
See you on the other side.