BAYC X MCBESS X THE DUDES: FALL CAPSULES DROP THE 26TH
10 Minutes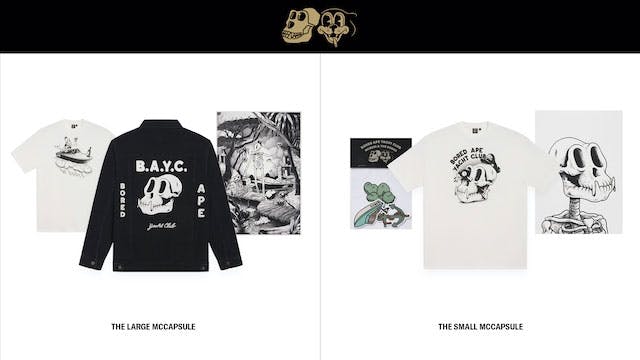 The BAYC x McBess x The Dudes McCapsules
If you saw the sneak peek at ApeFest, then you've probably been just as excited as we've been for this. On October 26th, the Bored Ape Yacht Club, The Dudes, and McBess come together for a merch collab just for apes.
We're longtime fans of the monochromatic, surrealist worlds McBess creates in his illustrations and The Dudes clothing label, so we're psyched to see BAYC brought to life in his signature style.
Wen/Wat
The collaboration is exclusively for BAYC/MAYC holders and will be live for one week on our storefront, starting Wednesday, October 26 at noon ET and ending Wednesday, November 2 at 11:59 ET. A gasless signature to prove ownership of a BAYC/MAYC will be required to access the store.
The small McCapsule is the equivalent of $175 in ApeCoin and will include:
Skull and Fish Tee
A 50cm x 70cm art print individually numbered
Stickers
An enamel pin
The large McCapsule is the equivalent of $500 in ApeCoin and will include:
A denim jacket
Patch set
An enamel pin
The Boat Tee
A 97cm x 70cm art print individually numbered
There are two McCapsules to choose from: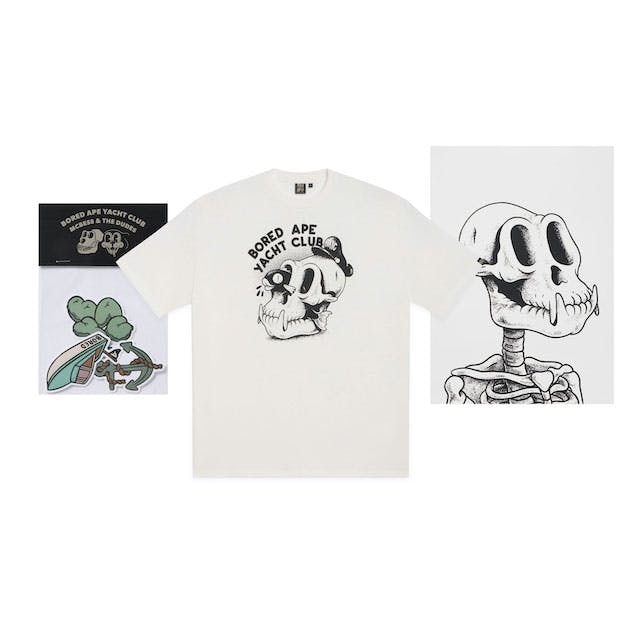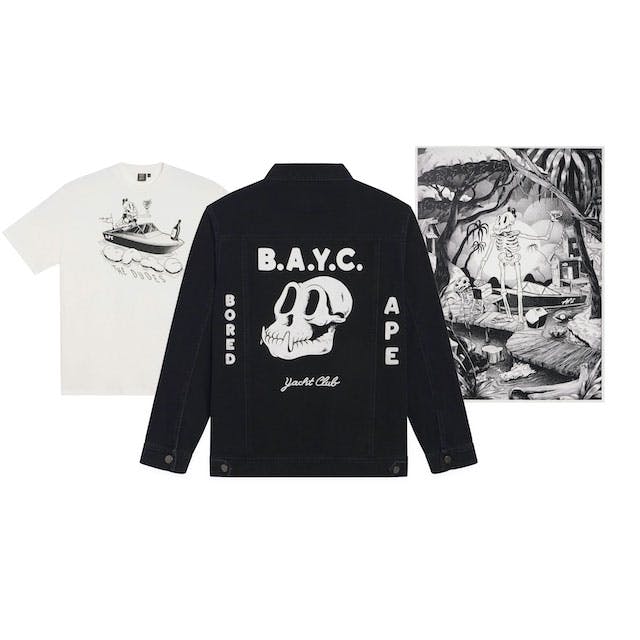 Order Details
The max order per person is 2 small and 2 large McCapsules (4 McCapsules total), and they'll be available for order throughout the entire one week window. This drop is made-to-order, so nothing will sell out.
Please note that prices for each McCapsule will be shown in USD for reference, but payment will be in ApeCoin only via Coinbase Commerce.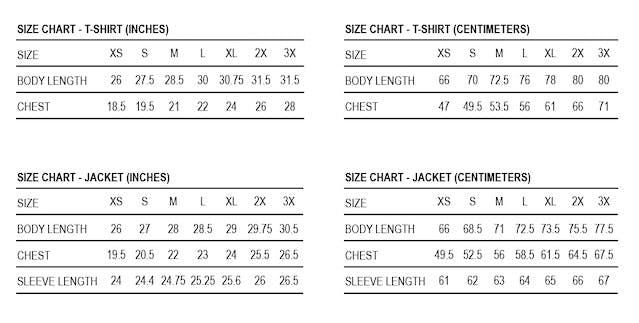 Sizes, Fit, and More
The BAYC x McBess x The Dudes collaboration will feature a wider range of sizes than previous BAYC/MAYC merch drops, ranging from X-small to 3X-large for all items in both McCapsules. Items in both McCapules have a unisex fit — reference the sizing chart above and fit/material descriptions below to choose the right fit for you.
The tees are 7.8oz heavyweight 100% organic cotton jersey, made in Turkey. The fabric has a soft, natural feel. It is a loose fit body with more form-fitting sleeves compared to ApeFest 22' gear.
The black denim jackets are 12-oz 100% cotton, made in Turkey. The vintage wash and antiqued hardware give them a worn-in look. The fit is loose and boxy with an extended length (compared to traditional denim jackets, which tend to be cut higher on the body), with space for a hoodie underneath. The bottom opening can be adjusted for a closer fit at the back hem.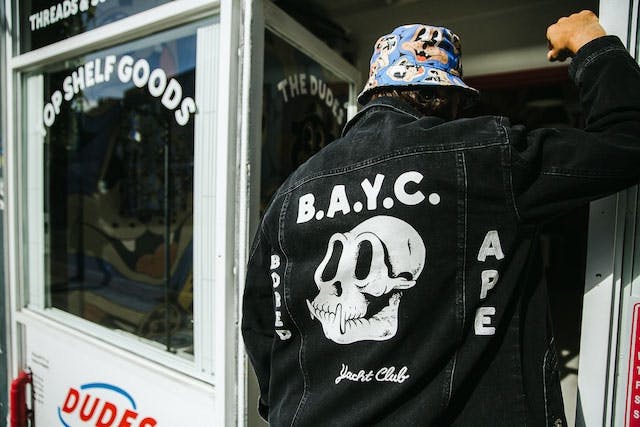 Important Notes About Ordering
Orders will be processed on the Shopify-powered https://store.boredapeyachtclub.com/ through Coinbase Commerce. If you are sending payment from another wallet at the time of purchase, please allow for the transaction to be confirmed both on chain and by Coinbase's system, which will need a few minutes after confirming on chain.
Do not exit the payment window when placing your order. Exiting the payment window before receiving both confirmations will not process the order and prompt an error code. For support with order issues reach out to [email protected] with your order information.
For our International shoppers, a calculation of the customs duties and related fees you owe will be shown at the time of purchase. Unlike previous drops, these fees will now be paid during checkout, so no surprise costs from your local customs office. Woo! Just make sure you enter your correct phone number during checkout and promptly respond to any requests your customs office may have for more info (this varies by location). If your shipment is not retrieved before the customs pickup deadline, it'll be returned to us and refunded in the same quantity of currency originally paid. Orders are expected to start shipping a few weeks after the order window has closed, but delivery time will vary.